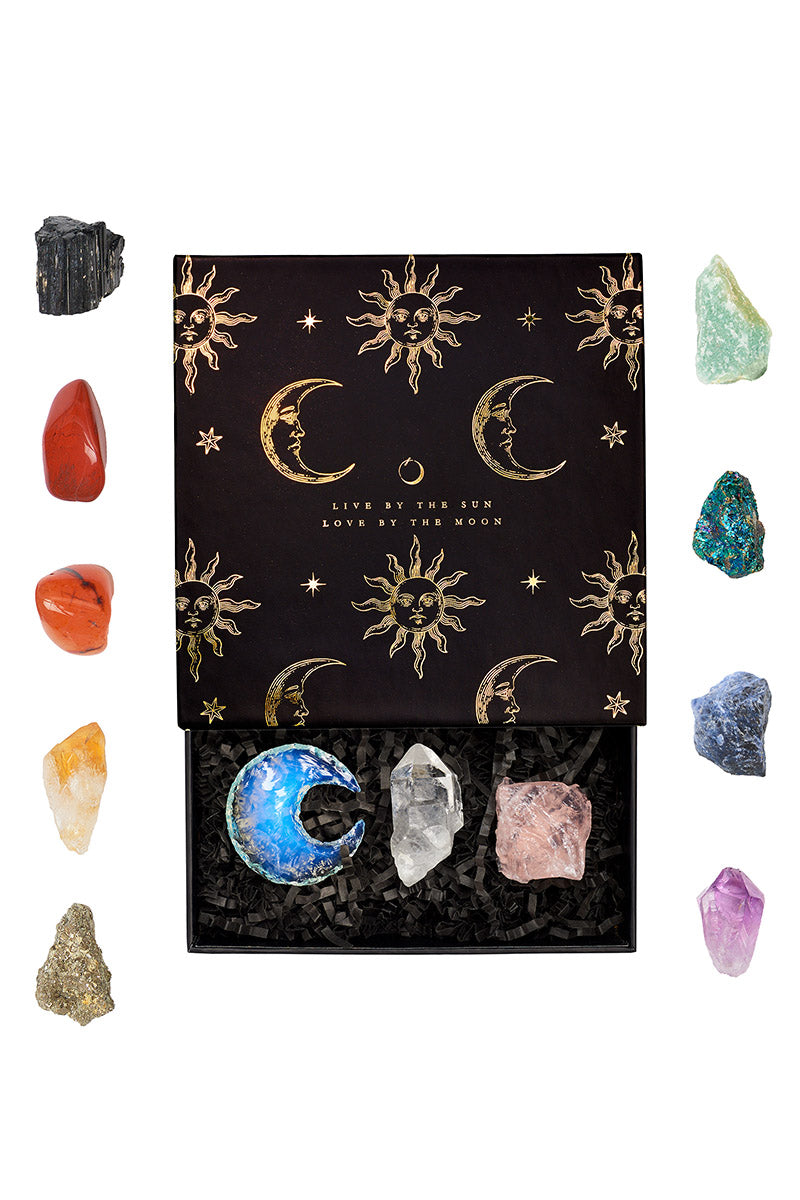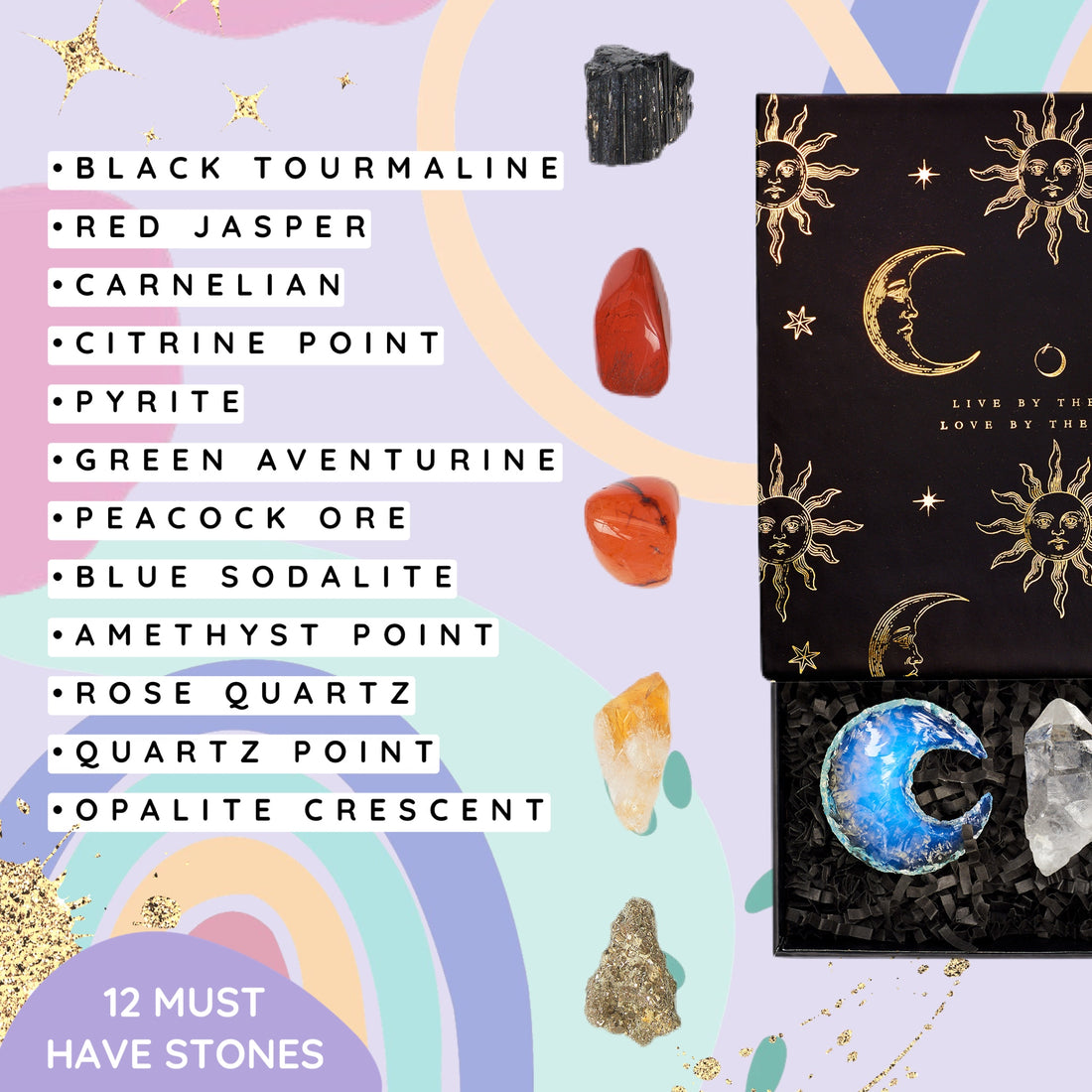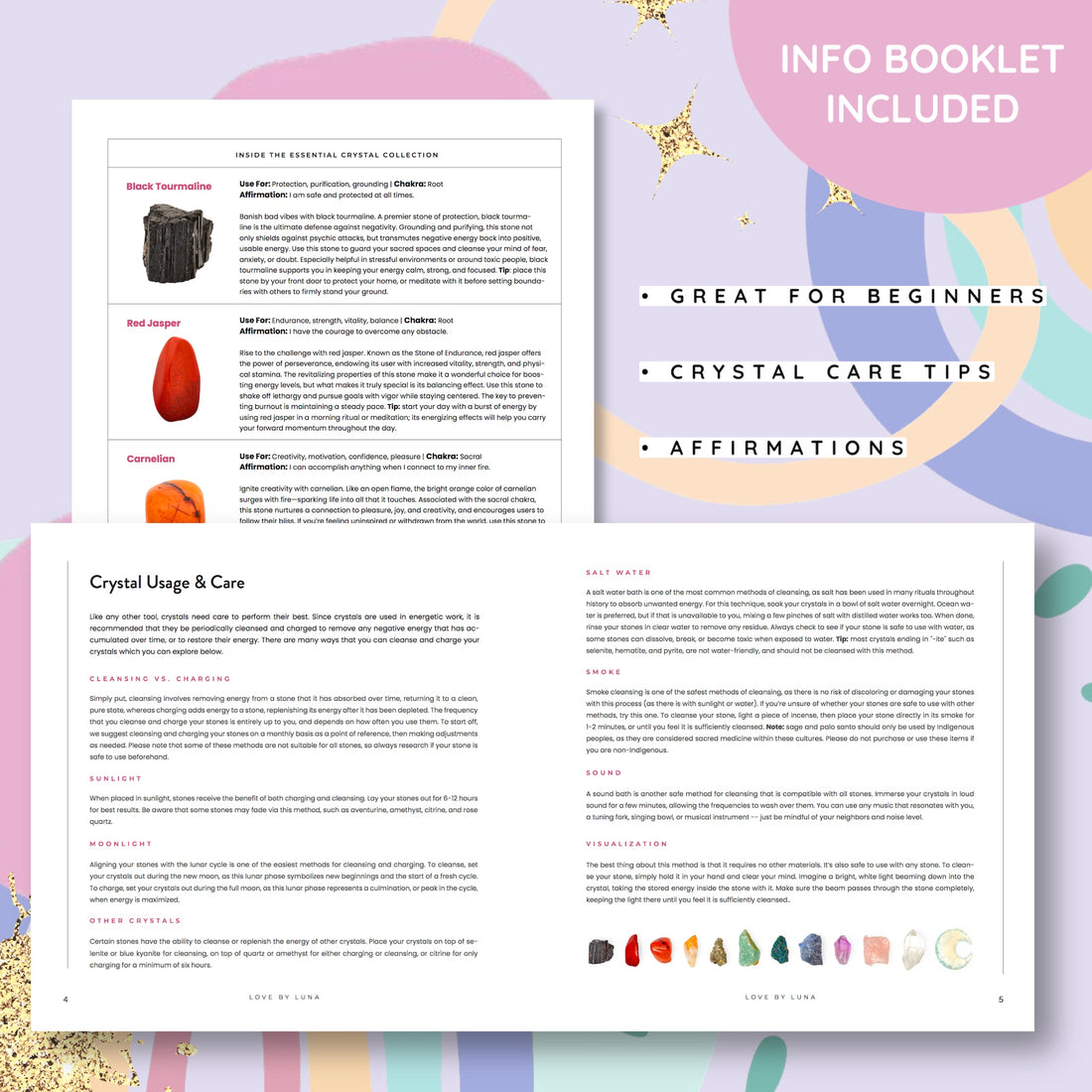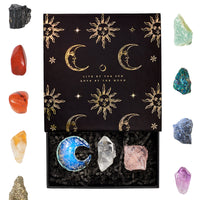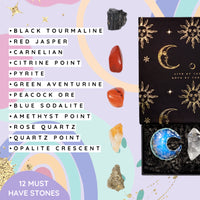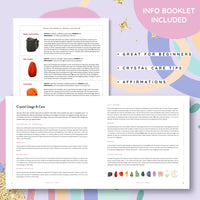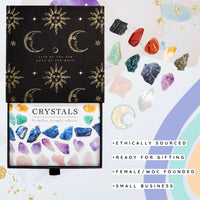 The Essential Crystal Collection
Explore the magic of crystals with this must-have set. Whether you're an avid collector or are simply crystal curious, the Essential Crystal Collection ($96 value) has everything you need to begin working with crystals. Featuring a gorgeous combination of 12 rough and tumbled stones, this set provides a solid energetic foundation for any intention setting or mindfulness practices--working in harmony with one another to soothe, support, and empower. 
Each set arrives gift-ready in a premium drawer style box with a golden sun and moon design. The box can be reused and is perfect for storing stones and other spiritual tools on one's altar. A printed 10+ page info booklet is also included that covers crystal usage basics such as cleansing vs. charging methods, safety and handling tips, the properties of each crystal, affirmations, mini rituals, and more.  
All crystals range between 0.75 - 1.25" average size and may slightly vary, as each crystal is unique. Our crystals are hand selected to ensure quality and are only purchased from reputable vendors who share our commitment to ethical sourcing practices.
☽ Black tourmaline (root chakra) - rough stone for grounding and protection
☽ Red jasper (root chakra) - tumbled stone for strength and vitality
☽ Carnelian (sacral chakra) - tumbled stone for creativity and confidence
☽ Citrine point (solar plexus chakra) - for abundance and success
☽ Pyrite (solar plexus chakra) - rough stone for manifestation and willpower
☽ Green aventurine (heart chakra) - rough stone for opportunity and growth
☽ Peacock ore (all chakras) - rough stone for upliftment and gratitude
☽ Blue sodalite (throat chakra) - rough stone for communication and wisdom
☽ Amethyst point (third eye chakra) - for soothing and intuition
☽ Rose quartz (heart chakra) - rough stone for love and compassion
☽ Clear quartz point (crown chakra) - for clarity and cleansing
☽ Opalite crescent moon (crown chakra) - for transitions and self-expression
Use each crystal individually or together in meditation, crystal grids, on your altar, & more.